Oxford Music Online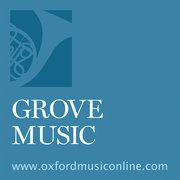 Oxford Music Online includes Grove Music, The Oxford Dictionary of Music and The Oxford Companion to Music.
It provides biographical information on classical and modern musicians from Amadeus Mozart to Aphex Twin. There are also articles on composers, conductors, instruments and notation.
To access: open the resource. In the "Login with library card" field type in NCLE followed by your library card number (without any spaces).
This resource requires a library card to use it.
Open Resource